This is quite a complicated question to answer as the answer will depend on your circumstances. In general however, if is never a bad idea to have a Will in place.
Home Ownership options
If you are purchasing or already own a property with another person you will usually own the property as Joint Tenants, this means that you both own 100% of the property and if one of you passes the other gets yours share.
The alternative to this would be Tenants in Common whereby you own a particular share of the property – usually 50/50 but it can differ, maybe if one person put down a larger deposit or pays a higher share of the bills for example.
What happens to my home if I pass away?
If you do not own the property as Joint Tenants with another person and do not have a Will your share of the property would pass to your next of kin. In England & Wales this would be:
Husband/Wife – First.
If not married then your children,
If no children then parents,
If your parents have passed then siblings followed by half siblings.
It then gets a little more complicated and hopefully the table below helps but ultimately it follows a set of rules set out by the government – "The Rules of Intestacy".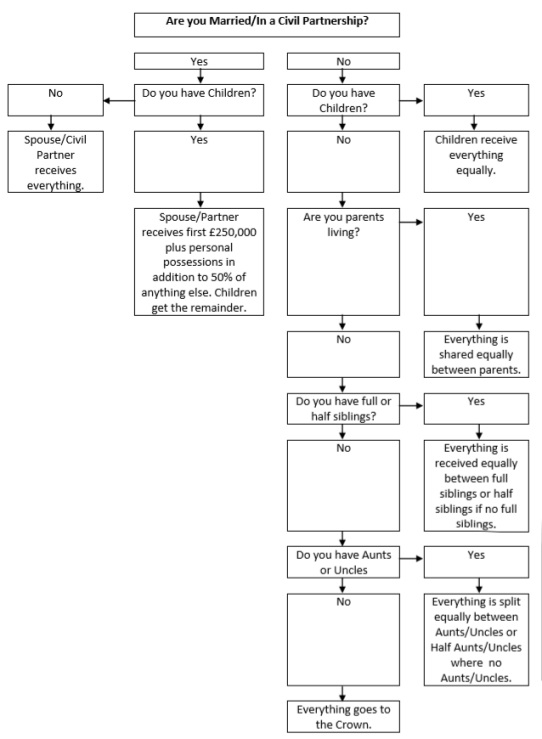 If you own your home as Tenants in Common and are not married, it can be wise to have a Will to ensure your share of your property goes to your partner. If you own your own home as Joint Tenants and are not married the property will pass to the other owner, however it can still be a good idea to have a Will.
Unfortunately when people pass away, it can cause arguments within a family. A Will is a good way to put down in writing and make it legal of what you want to happen to your assets including your home when you do pass. This can be useful as everyone knows what your intentions were and can be used to avoid rifts or arguments within the family.
Added to that, a Will can also mean your assets are divided up far more quickly than if there is no Will.
The other plus point to a Will is that even if it is not valid, it can help your family to understand what you wanted to happen to your home and other assets should the worst happen which in itself can also help to avoid arguments and rifts.
How can we help?
We do not write Wills at Mortgage Success, however we do work with a Will writer who can help. We can also look at other options and things to think about such as Trusts for your Life Insurance (generally speaking these are free to set up) and so on. So please do get in touch where we will be happy to discuss your options.